#4 WATCHING
THE INVISIBLE Episode #4
#4 WATCHING
THE INVISIBLE
Camille Ducellier
Camille Ducellier is the guest of Valérie Mitteaux and Wendy Delorme for this fourth episode of the Gang Of Witches podcast.
Camille Ducellier is a visual artist, author and video maker. She is particularly interested in the History of the witch and the contemporary reappropriation of this figure. For Camille, the link between political feminism and esoteric practices is obvious, these two spheres having in common to go beyond appearances and a deep search for truth. The meeting of these two spheres enabled Camille Ducellier to write "Le Guide pratique du féminisme divinatoire" (The Practical Guide to Divinatory Feminism), reissued in 2018 by Cambourakis Editions, with a preface by Starhawk. Through her work, resolutely political and committed, Camille creates portraits of people with different backgrounds, genders, sexualities and bodies. And invites us to open ourselves to other realities.
Suscribe to this podcast: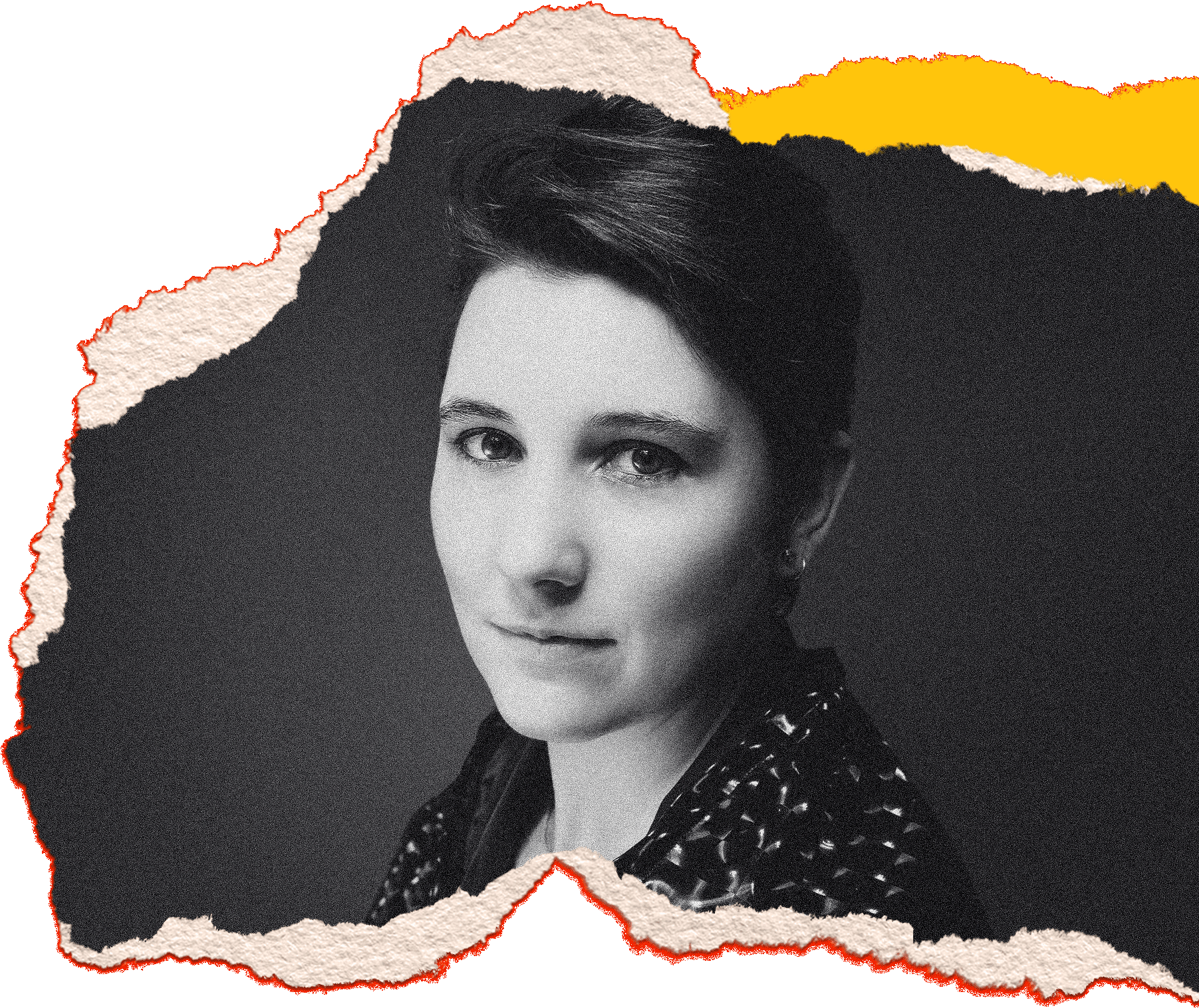 (00.02.10) Camille Ducellier explains how her relationship with the image of the witch and esoteric practices began, she also tells us about her great-grandmother.
(00.05.50) Until a few years ago, it was uncommon to link feminism and spirituality, Camille goes back to that time.
(00.07.40) Ad Vitam Æternam, the serialized novel of Sophie Rokh.
(00.10.34) The craze for the figure of the witch and the esoteric and spiritual practices over the last three years is due to several factors. The author gives us her analysis.
(00.15.04) Camille Ducellier and the two moderators discuss the links between natural disasters linked to fires (Portugal, California, Australia…) and fire as a symbol: revenge, destruction, rebirth.
(00.18.47) The author tells us about her encounter with Starhawk.
(00.25.04) The Lunar Alphabet Book of Wendy Delorme.
(00.29.01) Camille reads a ritual from her book Le guide pratique du féminisme divinatoire.
(00.35.20) How does esoteric knowledge influence the author's daily life, is it a way of relativizing inexplicable events?
(00.44.02) Camille Ducellier tells us about her inner witch.
(00.44.37) Camille evokes the characters in her documentaries and the trace they leave in her life.
(00.49.20) The author talks about her view of the progress of feminism.
(00.55.54) One of the chapters of Camille Ducellier's book is dedicated to how to make a dildo yourself, with Wendy they discuss how it pushes us to move away from the norms established by the sex industry.
(00.57.12) Towards a progressive enlightenment of minorities, the author and the animators go back over this long fight.
(01.00.24) Mitteaux's Rant.
(01.07.31) How and why is it important to explore eco-feminism?
(01.13.43) The Toolbox: how to curse patriarchy over 13 generations (unpublished text)
(01.16.53) Camille reads one last passage from her book Le guide pratique du féminisme divinatoire.
References cited
in the episode #4
Le guide pratique du féminisme divinatoire: Camille Ducellier, Editions Cambourakis 2018.
Rêver l'obscur: Starhawk, Editions Cambourakis 2015.
Quel monde voulons-nous: Starhawk, Editions Cambourakis 2019.
Reclaim: Émile Hache, Editions Cambourakis 2016.
La salope éthique: Dossie Easton and Janet Hardy, Editions Tabou 2013.
Nina Santes: Author of choreographic and musical pieces.
Starhawk: Writer and eco-feminist activist, as well as an American neo-pagan and a witch. She was a great influence on American feminist Wicca. According to Wouter Hanegraaff, she was responsible for the creation of thousands of covens.
Anna Halprin: American dancer and choreographer who developed an extremely innovative dance style in the 1950s with her company, Dancers' Workshop. Her movement practice and thinking have had a considerable influence on the development of dance, performance, happening, visual arts and experimental music.
Annie Sprinkle: American feminist artist, performer, director, publisher, cable TV host and writer who began her career as a stripper and pornographic actress.
Beth Stephens: American artist, sculptor, filmmaker, photographer, professor and chair of the Art Department at the University of California at Santa Cruz. She describes herself as "ecosexual" and has been collaborating with his wife since 2002, Annie Sprinkle.
Donna Read: American film editor and film director.
Cynthia Fleury: Philosopher and psychoanalyst, "Après la crise du coronavirus, il faudra combattre ceux qui vous diront qu'il faudra continuer comme avant", interview for RTBF Belgium, 2020.
UEEH: Euro-Mediterranean Summer Universities of Homosexuality.
Findhorn: Scottish ecological village.
Camille Ducellier's films: Alexandre Virlogueux, 2007 and Sorcières, mes soeurs, 2010.
Guest: Camille Ducellier
Animation: Valérie Mitteaux and Wendy Delorme
Production: Gang Of Witches
Conception: Wendy Delorme, Valérie Mitteaux, Paola Hivelin, Sophie Rokh
Editing: Valérie Mitteaux
Sound illustration: Gang Of Witches
Musics: Shool Ken – Downstairs – Gang Of Witches
Mix: Thibault Delage, Adrien Becarria, L'Arrière Boutique
Photography: Marie Rouge
Branding: Vivien Bertin
"The artistic collective Gang Of Witches launches on January 10th a podcast that resembles it. Understand: eco-feminist, intensely sororalistic and revolutionary. One of its presenters tells us a few words about it. To your helmets."
Extract from the article from Clément Arbrun for TERRAFEMINA
8th of january 2020
Download the press review – FR [pdf – 3Mo]