Patriarchy is burning
Paola Hivelin
Sophie Rokh
Sunny Buick
Vivien Bertin
Mina Mond
Ciou
Émilie Jouvet
Scarlett Coten
Miikka Lommi
Rébecca Chaillon
Mélanie Martinez Llense
Louis(e) de Ville
Amélie Poulain
Son Of A Pitch
Sabrine Kasbaoui
Funmilola Fagbamila
Julie Atlaz Muz
& Mat Fraser
La Poudre
Patriarchy is burning
2019 Edition
GANG OF WITCHES, an artistic, feminist and environmental gang, presented its festival, "Patriarchy is Burning", on the next 15th and 16th of June. As the third chapter of a series initiated in 2017, this event consists this year of a multidisciplinary festival that will take place at YOYO in Palais de Tokyo and will put forward live performance.
ARTISTIC FESTIVAL
EXHIBITION AND LIVE PERFORMANCE

15th & 16th of june 2019
From 2PM til midnight
YOYO – Palais de Tokyo
Free admission

The festival comes along with the release of both an eponymous book and
album.
For two days, GANG OF WITCHES gathered painters, sculptors, sculptresses, writers, photographers, video directors, musicians, dancers, performers and is about to send patriarchy to the stake.
Festival filmed by Periscope Production
With: GANG OF WITCHES, Paola Hivelin, Sophie Rokh, Sunny Buick, Miikka Lommi, Vivien Bertin, Ciou, Mina Mond, Scarlett Coten, Émilie Jouvet, Rébecca Chaillon, Mélanie Martinez Llense, Louis(e) de Ville, Amélie Poulain, La Poudre, Sabrine Kasbaoui, Funmilola Fagbamila, Julie Atlaz Muz et Mat Fraser.
PR contact: Pierre Laporte
01 45 23 14 14   |   info@pierre-laporte.com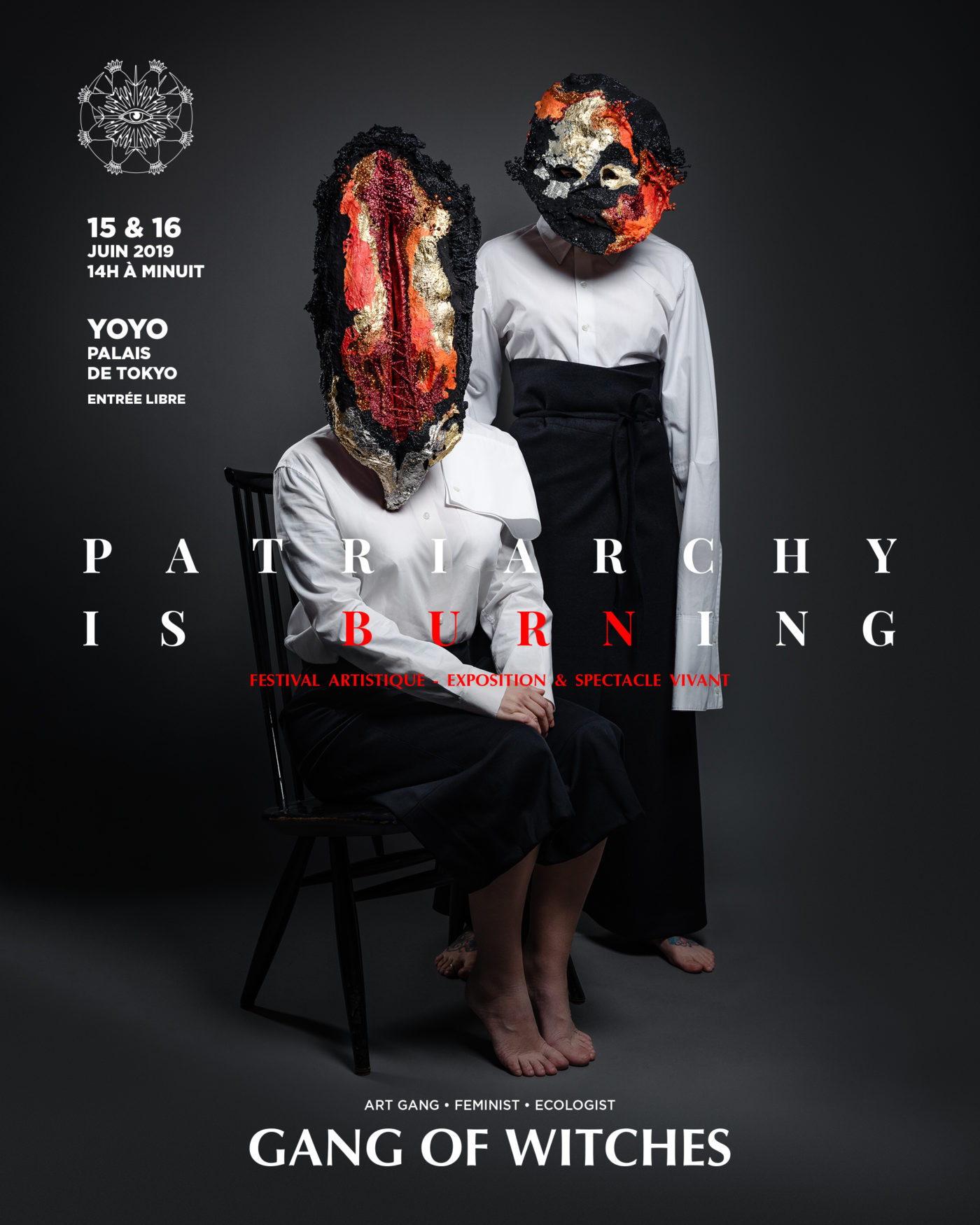 "AS EXTREMISM RISES, RESISTANCE IS ORGANISED."
"We can not change the world, but we can create a parallel system, a circular economy. Identify all the poles of resistance and create a parallel world, that I believe in it. After it's the race against the clock!"
Extract from the interview of Paola Hivelin from Apolline Bazin for Manifesto.XXI
13th of june 2019
Photo : ©Otto Zinsou

Photo : ©Otto Zinsou

Photo : ©Otto Zinsou

Photo : ©Otto Zinsou

Photo : ©Otto Zinsou

Photo : ©Otto Zinsou

Photo : ©Otto Zinsou

Photo : ©Otto Zinsou

Photo : ©Otto Zinsou

Photo : ©Otto Zinsou

Photo : ©Otto Zinsou

Photo : ©Otto Zinsou

Photo : ©Otto Zinsou

Photo : ©Otto Zinsou

Photo : ©Otto Zinsou

Photo : ©Otto Zinsou

Photo : ©Otto Zinsou

Photo : ©Otto Zinsou

Photo : ©Marie Rouge

Photo : ©Marie Rouge

Photo : ©Marie Rouge

Photo : ©Marie Rouge

Photo : ©Marie Rouge

Photo : ©Marie Rouge

Photo : ©Marie Rouge

Photo : ©Marie Rouge

Photo : ©Marie Rouge

Photo : ©Marie Rouge

Photo : ©Marie Rouge

Photo : ©Marie Rouge
THE PROGRAM
EXHIBITION
15th & 16th of june from 2PM til midnight
ÉMILIE JOUVET: "fILles" – Photography
GANG OF WITCHES presents a selection of photographic productions taken from "The Book", questioning the political spectrum of sensitivity, the expression of intimacy and desire. Jouvet makes the public face members of a community who build their own subjectivity: queers, butches, queens, femmes, trans, lesbians, bi, heteros and gays.
SCARLETT COTEN: "Reimagining Masculinity" – Photography
The ambition for "Reimagining Masculinity" is to open a dialogue between notions of gender or masculine identity. This series also questions the position of women's perspective in art.
CIOU: "Behind the Scene" – Painting
Ciou pays tribute to remarkable women from the 19th century but who have been forgotten by History such as Mary Blair who drew the Alice in Wonderland from Disney or Katsushika Ōi, Hokusai's own daughter.
SUNNY BUICK: "Learning to dance with the Maneaters" – Painting
This production questions the patriarchal system and the place of women in society.
MINA MOND: "Les nouveaux Cavaliers de l'Apocalypse" – Painting
"Sometimes when I look at the world, I feel like we have entered a new dark age whose doors have been opened by the new horsemen of the Apocalypse. I relate this contemporary history by mixing references from the past to it; both have always been intimately connected."
MIIKKA LOMMI: "Patriarchy is burning" – Vidéo clip
This is the second video directed by Miikka Lommi for GOW, this time on the title "Patriarchy is burning " which is the anthem of this festival.
VIVIEN BERTIN: "Crystal Titans" – Photography
Extracted from a more important work on New York which has become a book, this selection shows the graphic and ice-cold beauty of Manhattan whose human being has gone as if missing, as if swallowed in the guts of giants made of glass and concrete.
PAOLA HIVELIN: "Witches spread like Fire" – Sculpture
This series celebrates women who have the courage to speak, to demand justice, to refuse the established order and those who support them.
Arôm: "Le Bûcher" – Flower installation

LIVE PERFORMANCE
15th of june 2019
2.00PM: Doors open
3.00PM ÉMILIE JOUVET: "Mon Enfant ma bataille" – Documentary and debat with the film maker
A documentary-film relates the history of same-sex parenting in France through APGL -association for gay and lesbian parents and future parents- which is the first French association to fight for the rights of same-sex families.
5.30PM RÉBECCA CHAILLON: Performance
6.00PM MÉLANIE MARTINEZ LLENSE: "HYBRISTIKA" – Performance
"HYBRISTIKA" reproduces an old ritual from the Greek antiquity that consists of exchanging clothes between boys and girls: this swap of clothes symbolizes the entry into the Chaos era. This ritual of celebration works on the analogy between life force and insurrectionary momentum so to find out which creative gesture results of this hubris, this excess of being. To free the body from the norm, to liberate it from an imposed reality in order to reinvent itself, literally to exalt it, that's what the Dionysian principle is all about as well as being the driving force of this project.
8.30PM LOUIS(E) DE VILLE: "Fait mâle" – Performance
9.00PM GANG OF WITCHES: "Patriarchy is burning" – Live
10.00PM AMÉLIE POULAIN: "Hommage à Paris is Burning" – Voguing
10.30PM SON OF A PITCH: Dj set
LIVE PERFORMANCE
16th of june 2019
1.00PM: Doors open
2.00PM LA POUDRE: Live recording – Podcast

4.00PM SOPHIE ROKH: "Ad vitam æternam" – Reading
In her dystopian serialized novel, Sophie Rokh portrays a repressive and misogynistic society where science has replaced God. The writer deals with themes such as female power, decorrelated gender from biological sex, ecological emergency and transhumanism.
4.30PM SUNNY BUICK: "Interlude dada" – Performance
Artbracadabra Sunny Buick has decided to step out of the framework.
5.00PM SABRINE KASBAOUI: "La Reconquête" – Documentary and debat with the film maker
#payetonuterus [French colloquial and quite recent expression that means speak up in the name of your uterus]. Since 2014, with the liberation of women's voices on social networks, gynecological and obstetric acts of violence have finally emerged as a major public health problem to be taken into account in order to change caregivers' practices with women.
8.30PM FUNMILOLA FAGBAMILA: "The Intersection, Woke Black Folk" – Performance
This play explores and deconstructs the black political identity, highlighting forms of conflicts and ideological differences that exist within what can be understood as black radicalism. This poem challenges the coherence and singularity of the political category "woke" by demonstrating the profound differences and divisions within the black communities and Blacks' mobilization.
9.00PM JULIE ATLAS MUZ & MAT FRASER: "Ms Boo, the giant Penis Puppet & American Trilogy" – Performance
Direction: Miikka Lommi
Composition: MC Chaton
Lyrics: W
Vocals: MC Chaton & W
Arrangements & recording: Son Of A Pitch
Mixing: Eddy Rateni
Mastering: Raphaël Jonin
Vinyl
Gang Of Witches —
"Patriarchy is burning"

Release date: June 2019
Music tracks: 8
Vinyl pressing: 12″ – 150 grs
Color: Red
Mp3 download code included
Price: €20.00
Composition and vocals: MC Chaton
Lyrics and vocals: W
Vocals: MC Chaton & W
Arrangements: Son Of A Pitch
Recording and mixing: Eddy Rateni
Mastering: Raphaël Jonin
Visual cover: Vivien Bertin

Following a first track in 2018, "We are Gang Of Witches", the music section of GANG OF WITCHES, composed by Sophie Rokh (MC Chaton), Paola Hivelin (W) and Son Of A Pitch (S.O.A.P), performed live during the festival "Patriarchy is burning" for the public to discover their first eight tracks album.
A vinyl in a limited edition of 300 numbered copies.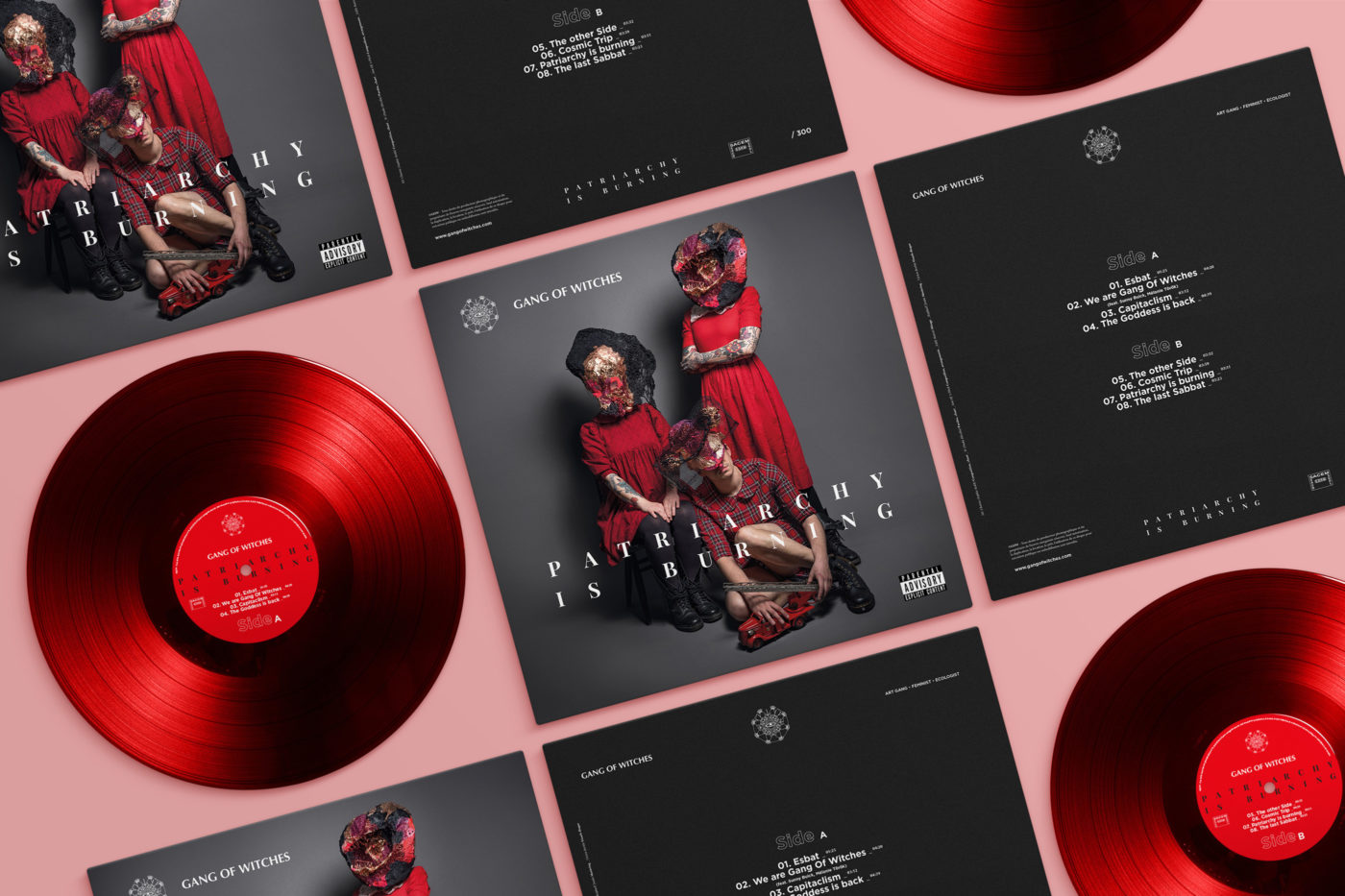 Book
Gang Of Witches —
"Patriarchy is burning"

Language: French
Release date: June 2019
Format: 21×28 cm
Number of pages: 212 pages
Price: €180.00
GANG OF WITCHES deploys autonomous and independent networks, and particularly for the annual publishing of a book, a precious volume whose mission is to expose the latest works from members of the gang and other artists, to share their battles as well as the ones of other thinkers and activists in resonance with their philosophy so to expand day after day the gang's circle.
The book, also called "Patriarchy is burning", addresses, on top of gender issues and the different aspects of patriarchal oppression, the themes of ageism, nature in the city and circular economy.
"The YOYO is a hotbed of resistance, the pyre of patriarchy and any oppressive system to celebrate individual and collective freedoms, the right to be different and the joy of mixing genres."
Extract from the article from Marie Plantin for Pariscope
7th of june 2019