#9 GETTING OUT OF
HETEROSEXUALITY Episode #9
Episode #9
September 2020
#9 GETTING OUT OF
HETEROSEXUALITY
Juliet Drouar
For this ninth episode, Valérie Mitteaux and Wendy Delorme welcome Juliet Drouar, therapist and trans feminist author. Juliet works for a model of social organization that is not based on domination, from class to class and from person to person. Juliets activity as a therapist finds its foundations in this path. Juliet is the founder of the festival "Sortir de l'hétérosexualité" ("Getting out of heterosexuality"), and the author of an explosive text published on their blog Mediapart last June, which highlights the other categories of people who are victims of sexism in the same way, but differently, as cisgender women, «Femme» n'est pas le principal sujet du féminisme ("Woman" isn't the main subject of feminism). In this episode, Juliet talks about "sexized" people, and getting out of heterosexuality.
Suscribe to this podcast: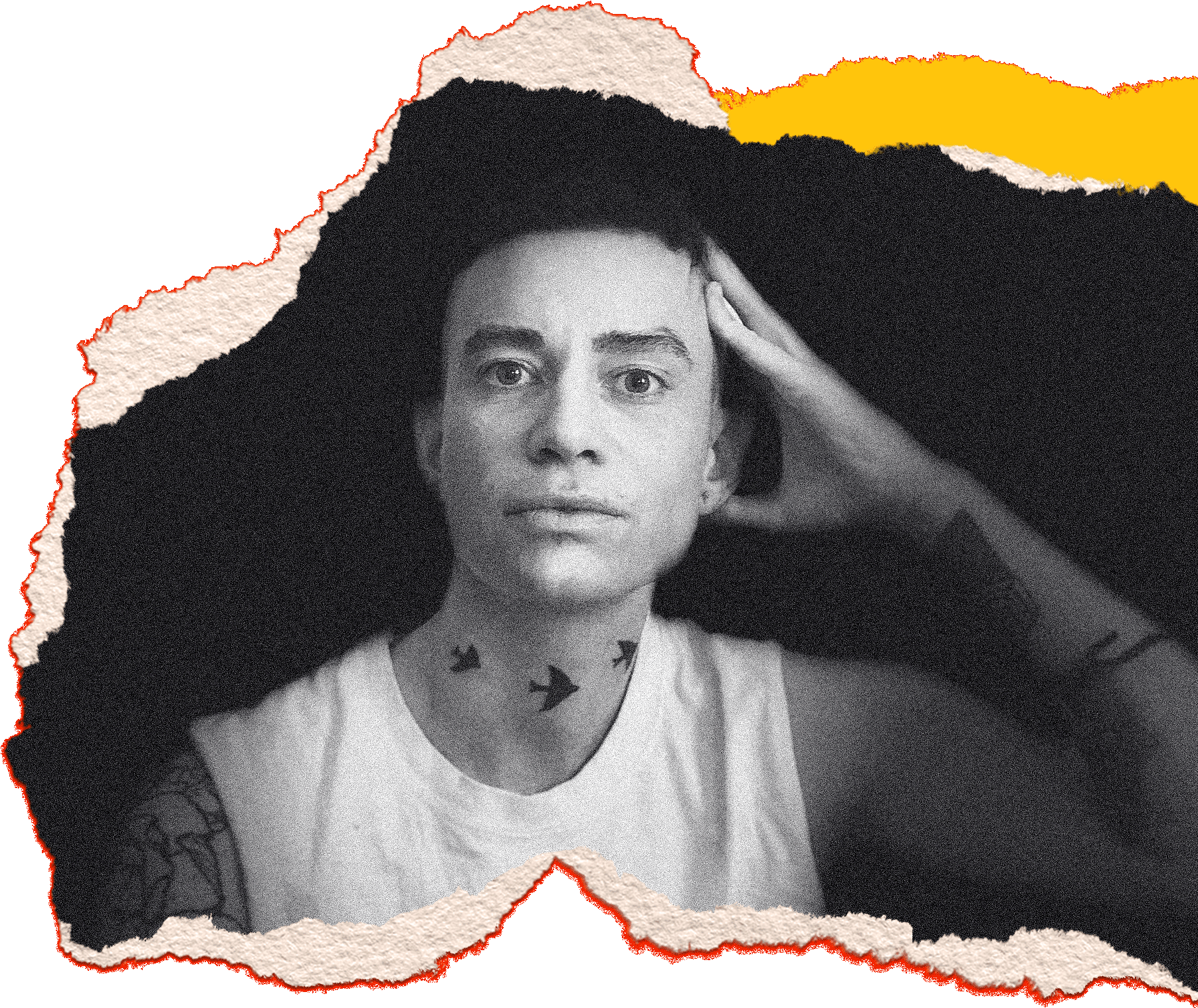 (00.01.22) Why getting out of heterosexuality? Our guest speaks to us about cisgender privileges.
(00.05.53) Juliet Drouar tells us about the discrimination suffered by trans people.
(00.09.16) Juliet reads the introduction of her blog post published on Mediapart "Femme" n'est pas le principal sujet du féminisme ("Woman" isn't the main subject of feminism), and comes back to this text.
(00.23.01) The Lunar Alphabet Book of Wendy Delorme.
(00.26.54) Does cisgender feminism realize the fact that it does not question the category in which it is assigned?
(00.37.20) Juliet Drouar rejects the term phobia to justify the behaviour of the aggressors, the basis of whose actions stems from sexism.
(00.42.43) The toolbox proposition: using the term "sexised" for all those who belong to gender and sexual minorities and suffer from sexism, rather than using it to implicitly talk only about the group "women".
(00.45.51) "A full Moon, a Vegetable", musical interlude, by Paola Hivelin and Sophie Rokh.
(00.47.25) Sexism in the majority goes beyond the women's group and affects several social groups.
(00.54.26) How sexism and systemic violence experienced over the course of a lifetime shape an individual's actions. 
(01.03.22) Normality and conformity, the non-compliant is in the majority.
(01.08.25) It is not fair not to see the common ground between us, a question of gathering and convergence of struggles.
(01.10.26) Coming out of heterosexuality is not a sexual question, it is a question of coming out of patriarchy.
(01.18.50) How do we pull out the roots of sexism? 
(01.20.50) Mitteaux's Rant.
(01.26.01) Juliet Drouar reads us one of her poems.
(01.29.06) Our guest speaks to us about his inner witch.
References cited
in the episode #9
Des sexes et des femmes: Festival on the theme Getting Out of Heterosexuality (Fall 2019).
Juliet Drouar: Gouine ("Dyke") – Trans – French feminist activist.
Cisgender: Qualifies a person whose gender identity matches with the gender assigned to him or her at birth.
Transgender: Transidentity is the fact that a transgender person has a gender identity different from the sex assigned at birth, unlike a cisgender person.
Karine Espineira: Franco-Chilean media sociologist.
«Femme» n'est pas le principal sujet du féminisme ("Woman" isn't the main subject of feminism): Article published by Juliet Drouar on their blog Mediapart on June 30, 2020.
Kimberlé Crenshaw: Lawyer and professor at UCLA School of Law and Columbia Law School, specializing in race and gender issues and constitutional law.
Intersectionality: A concept used in sociology and political reflection, which refers to the situation of people who are simultaneously subjected to several forms of stratification, domination or discrimination in a society.
Silvia Federici: An academic, teacher and activist, she is a professor at Hofstra University in Long Island, New York, where she teaches social sciences.
Colette Guillaumin: French sociologist and anti-racist and feminist activist.
Michèle Causse: Writer and French translator.
Vaca Profana: Song by Caetano Veloso, 1986.
Monique Wittig: French lesbian feminist novelist, philosopher, theorist and activist.
Parce que les lesbiennes ne sont pas des femmes: Monique Wittig Proceedings, Columbia University, Paris, 16-17 June 2001.
FHAR Front Homosexuel d'Action Révolutionnaire (Homosexual Front for Revolutionary Action) and autonomous movement, founded in 1971, resulting from a rapprochement between lesbian feminists and gay activists.
Louise Michel: Teacher, anarchist activist, freemason, with feminist ideas and one of the major figures of the Paris Commune.
Paroles d'un croyant ("Words of a believer"): Félicité Robert de Lamennais, 1834.
Gratin of chard with vegan béchamel sauce – vegan
Preparation time 25 min
Cooking time 25 min
Total time 50 m
4 people
Ingredients
* 8 large chard leaves
* 50 g margarine
* 50 g wheat flour
* 600 ml vegetable milk
* 1 tbsp. vegetable stock powder
* 1/4 teaspoon nutmeg
* 1/2 teaspoon salt
Instructions
* Rinse off your chard.
* Remove any too thick and fibrous parts from the chard ribs. Then cut the white into small pieces and the leaves more coarsely. Steam it for about 15 minutes so that the ribs are very tender.
* Drain them well.
* Meanwhile, prepare the béchamel sauce. In a saucepan, melt the margarine.
* Then add the flour to make a kind of thick and slightly yellowish dough.
Then add about a third of the milk: stir well to dilute the dough over low heat.
* 
When the mixture thickens, add another third and then a last one. Don't make the béchamel too thick, as it will still go through the oven, season, and adjust the amount of salt to your taste.
* In an ovenproof dish place the cooked chard, then on top, the cream.
* Place in the oven at 200 – 210°C for 20 to 30 minutes, the time the béchamel golds on top.
* Eat hot as a side dish, with rice for example, and some vegetable sausages or marinated tofu and pan-fried!
Guest: Juliet Drouar
Animation: Valérie Mitteaux and Wendy Delorme
Production: Gang Of Witches
Conception: Wendy Delorme, Valérie Mitteaux, Paola Hivelin, Sophie Rokh
Editing: Valérie Mitteaux
Sound illustration: Gang Of Witches
Musics: Gang Of Witches / Reel Life Evolution (Evolution II) – Cinematic Orchestra – Album Man with a movie camera – label Ninja Tune – 2003 / Lilac Wine – Nina Simone – auteur: James Shelton – album Wild is the wind – Philips Records – 1966 / Switch Witch Bitch – The Late Plummer's – Xanae Bove et Nicolas Duée – 2020 / Running out of Time – Tyler the creator – Album Igor – A Boy is a Gun – Columbia Records – 2019 / String Quartet No. 5: III. – Kronos Quartet Performs Philip Glass – ℗ 1995 Nonesuch Records
Mix: Thibault Delage, Adrien Becarria, L'Arrière Boutique
Photography: @kavehrne
Branding: Vivien Bertin
"The artistic collective Gang Of Witches launches on January 10th a podcast that resembles it. Understand: eco-feminist, intensely sororalistic and revolutionary. One of its presenters tells us a few words about it. To your helmets."
Extract from the article from Clément Arbrun for TERRAFEMINA
8th of january 2020
Download the press review – FR [pdf – 3Mo]