#8 WRITING
TO THE FUTURE Episode #8
#8 WRITING
TO THE FUTURE
Élise Bonnard and Marguerin Le Louvier
For this eighth episode, Valérie Mitteaux and Wendy Delorme welcome Élise Bonnard and Marguerin Le Louvier, a literary duo known as "Cristal qui songe". Passionate about writing, Élise and Marguerin draw their inspiration from science fiction literature, from the great feminist authors or from gay authors. Together, they lead collective writing workshops that blur the lines between human and literary genres ("La planète qui salive").
Together or separately, they lay themselves bare through poetry or science fiction to tell the story of desire and open up possibilities. Dive into their universe thanks to this episode, an ode to writing and literature.
Suscribe to this podcast: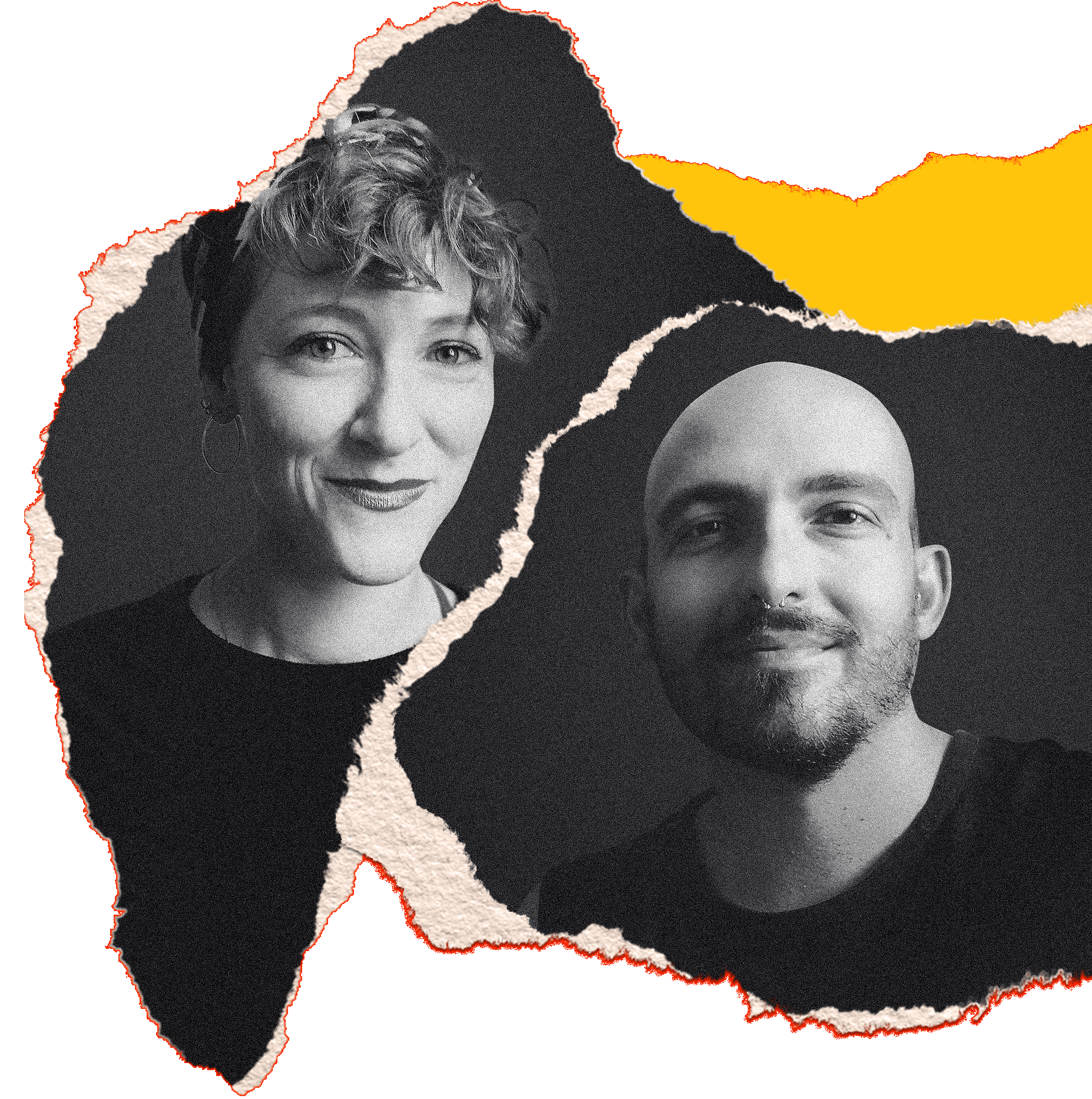 "d'une espèce
à une autre"

An original sound creation by Marguerin Le Louvier, Candice Chechirlian and Élise Bonnard.
Episode BONUS available on:

Disclaimer: Dear listeners, in conclusion of the Gang Of Witches podcast dedicated to the literary duo "Cristal qui songe", we asked them to record a sound creation especially dedicated to this podcast. Sensitive ears are warned, the text contains sexually explicit passages.
(00.01.30) Our guests introduce themselves, tell us about their routes and activities.
(00.02.55) Marguerin presents their project Cristal qui songe.
(00.03.54 ) Élise and Marguerin look back on their meeting and tell us about their erotic science-fiction writing workshop La planète qui salive.
(00.13.10) Our two guests talk about their relationship to writing.
(00.16.48) Why write about sexuality?
(00.19.10) Élise tells us about the classical and science-fiction authors who inspired her in her writing.
(00.21.20) The Lunar Alphabet Book of Wendy Delorme.
(00.26.29) Élise looks back on her public readings.
(00.28.20) Marguerin leads workshops on masculinity (Nos armes à deux balles), how to talk about masculinity without going towards masculinism?
(00.36.40) In what conditions is the chosen mix important, and what is its purpose?
(00.42.02) Élise talks about Polaire, one of the characters in her texts.
(00.45.55) "A full Moon, a Vegetable", musical interlude, by Paola Hivelin and Sophie Rokh.
(00.47.20) What impact has dockdown had on their respective work?
(00.53.28) Élise and Marguerin tell us about their inner witches.
(00.58.38) Mitteaux's Rant.
(01.05.24) The toolbox: why do you have to attend our guests' writing workshops. 
(01.07.00) Élise and Marguerin tell us about their new sound creation "D'une espèce à l'autre" as a bonus to this podcast episode.
References cited
in the episode #8
Grrrnd Zero: Concert hall and independent association in Lyon / Vaulx-en-Velin.
Élise Bonnard: Author.
Marguerin Le Louvier: Author.
Cristal qui songe: Théodore Sturgeon, J'ai lu, 1950.
Élodie Petit: Author.
Les Éditions douteuses: Writing project by Élodie Petit and Marguerin Le Louvier.
Guillaume Dustan: Writer, french publisher.
"Delphine et Carole, insoumuses" – Un voyage au coeur du "féminisme enchanté": Documentary on the meeting between actress Delphine Seyrig and video director Carole Roussopoulos from Callisto Mc Nulty, 2018.
Colette: French woman of letters.
Annie Ernaux: French woman of letters.
Fabienne Swiatly: Author.
Brigitte Giraud: Author.
Putain: Nelly Arcan, Seuil, 2002.
Folle: Nelly Arcan, Seuil, 2005.
Lucas Ottin: French poet and musician.
Léo Bersani: American professor specializing in French literature.
La vie matérielle: Marguerite Duras, Gallimard, 1987.
The Pickup artists: Movement of men whose objective is seduction and sexual success with women.
Alpha mâle – Séduire les femmes pour s'apprécier entre hommes: Mélanie Gourarier, Seuil, 2017.
La machine à explorer le temps: Herbert George Wells, Gallimard Jeunesse, 1895.
Priscille Touraille: French anthropologist.
Donna Haraway: Professor in the Department of Humanities at the University of California at Santa Cruz, where she held the chair in the history of consciousness and feminist studies.
FLAG!: French association whose objective is to combat all forms of discrimination against gays, lesbians, bisexuals and transsexuals within the Ministry of the Interior and the Ministry of Justice, but also among the population requesting its services. It was set up in Paris by police officers on 9 September 2001.
L'utopie déchue – Une contre-histoire d'Internet XVe – XXIe siècles: Félix Tréguer, Fayard, 2019.
La main gauche de la nuit: Ursula K. Le Guin, Le Livre de Poche, 1969.
Candice Chechirlian: Lyon-based cold pop musician and creator of the soundtrack for the musical creation "D'une espèce à l'autre".
L'Espace d'un an: Becky Chambers, Éditions l'Atalante, 2016.
Qui a peur de la mort ?: Nnedi Okorafore, Éditions ActuSF, 2013.
Anthologie Douteuse (2010-2020): Aurélie Petit and Marguerin Le Louvier, soon to be published by Rotolux Press.
Years and Years: Drama series, created by Russell T Davies, BBC, 2019.
Baba ganoush – vegetarian
Ingredients
* 1 large eggplant
* 3 tbsp. toasted tahini soup (sesame paste)
* Salt
* 1 lemon
* 1 crushed clove of garlic
* 1 tbsp olive oil soup
* Chopped parsley
* ⅛ c-a-c cumin
* Cayenne pepper
Instructions
* Preheat oven to 375 F (190 °C).
* Cut the aubergine in half and place on a baking sheet covered with baking paper, cut side down.
* Cook for 20-30 minutes or until soft.
* Remove the eggplant from the oven and allow to cool.
* Turn the eggplant over and scrape out the pulp with a spoon.
* Mash in a blender or with a fork and puree.
* Sprinkle the pulp with half the lemon juice.
* Add the tahini and mix. Season with cayenne pepper and cumin.
* Add garlic and olive oil. Mix well.
* Pour in the second half of the lemon juice.
* Adjust the seasoning. Serve sprinkled with olive oil and lemon.
* Sprinkle with chopped parsley and sprinkle with cumin and cayenne pepper just before serving.
Guests: Élise Bonnard et Marguerin Le Louvier
Animation: Valérie Mitteaux and Wendy Delorme
Production: Gang Of Witches
Conception: Wendy Delorme, Valérie Mitteaux, Paola Hivelin, Sophie Rokh
Editing: Valérie Mitteaux
Sound illustration: Gang Of Witches
Musics: Gang Of Witches – Paola Hivelin et Sophie Rokh / Sex friend – Booster – 2010 / « La chanson des sorcières » excerpt from the film The Witches film 1 entitled « La sorcière brûlée vive » Luchino Visconti / autor : Piero Piccioni – 1967 / Monte Booker – Kolors Ft. Smino – 2015 / Boys – Lizzo – 2017 / Savage – Megan Thee Stallion – 2020 / Excerpts from the soundtrack of the film « Blade Runner » de Ridley Scott – Vangelis – 1982 / Excerpts from the soundtrack of the film "2001, l'Odyssée de l'espace" – Stanley Kubrick – 1968
Mix: Thibault Delage, Adrien Becarria, L'Arrière Boutique
Branding: Vivien Bertin
"The artistic collective Gang Of Witches launches on January 10th a podcast that resembles it. Understand: eco-feminist, intensely sororalistic and revolutionary. One of its presenters tells us a few words about it. To your helmets."
Extract from the article from Clément Arbrun for TERRAFEMINA
8th of january 2020
Download the press review – FR [pdf – 3Mo]