#7 ECOFEMINISM(S) Episode #7
#7 ECOFEMINISM(S)
Jeanne Burgart Goutal
Jeanne Burgart Goutal is the guest of Valérie Mitteaux, Wendy Delorme and Sabrine Kasbaoui for this seventh episode of the Gang Of Witches podcast.
For this seventh episode, Valérie Mitteaux and Wendy Delorme are accompanied by another member of the gang, Sabrine Kasbaoui, director and journalist. Together they welcome the author and researcher Jeanne Burgart Goutal, associate professor of philosophy and yoga teacher. Jeanne Burgart Goutal has been conducting research on ecofeminism for about ten years, work that she has transcribed in a book entitled Être écoféministe, théories et pratiques, published this year by L'Echappée. What is ecofeminism? That's what you'll discover in this new episode…
Suscribe to this podcast: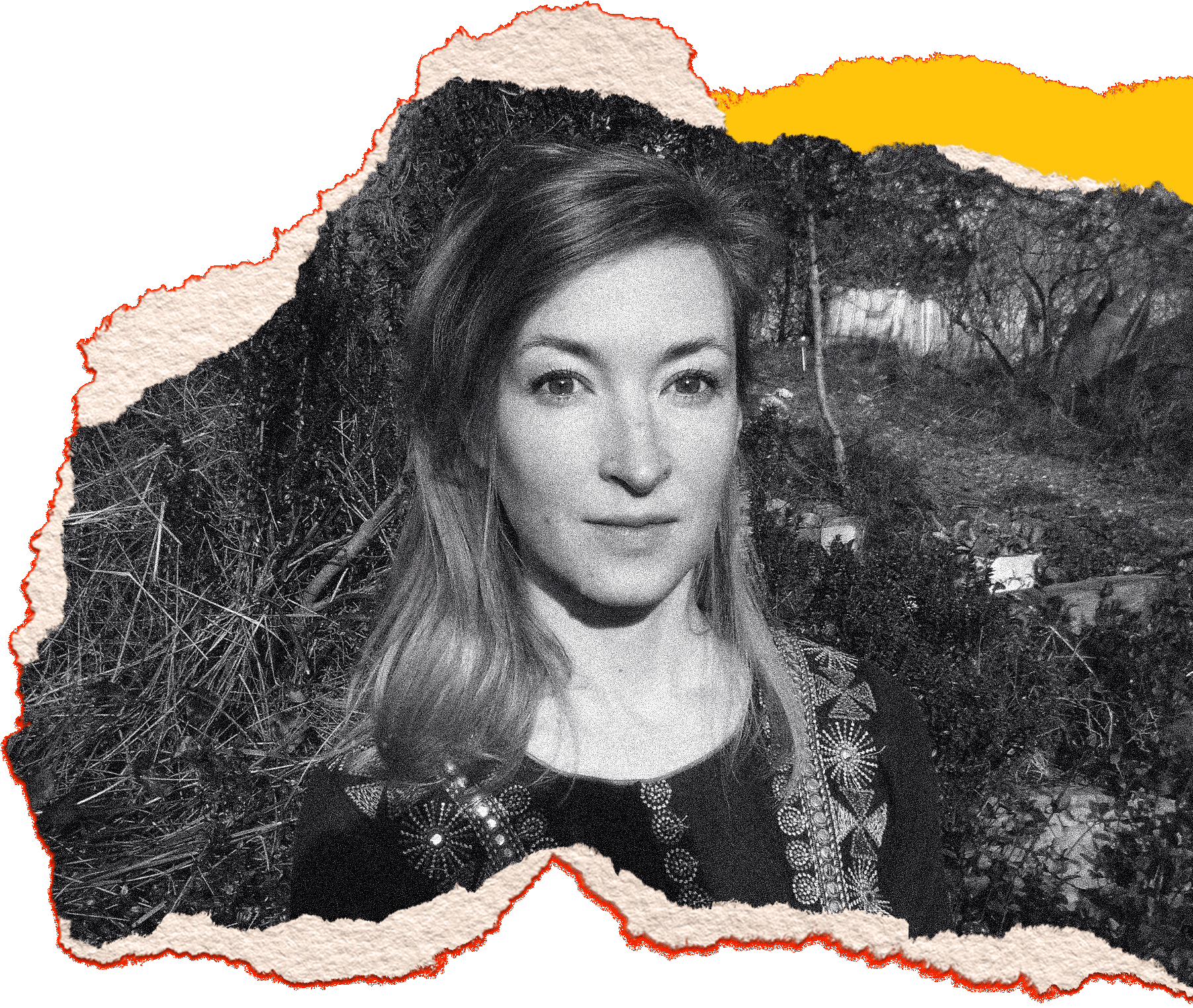 (00.01.19) Sabrine Kasbaoui, journalist and director, member of Gang Of Witches, introduces Jeanne Burgart Goutal, her career and her book Être écoféministe – Théories et pratiques.
(00.02.19) Our guest talks about Françoise d'Eaubonne, woman of letters and activist at the origin of term ecofeminist.
(00.04.30) How is ecofeminism used as a tool for massive deconstruction?
(00.06.35) Through John Locke's book, The Treatise on Civil Government, our guest and moderators debate on the deconstruction of dominant thought.
(00.09.40) The eco-feminist movement ran out of steam in France during the mid-90's and to be reborn in recent years, what are the causes?
(00.13.29) Wendy Delorme and Jeanne Burgart Goutal discuss the association of the words Woman and Earth.
(00.17.45) Ad Vitam Æternam, the serialized novel of Sophie Rokh.
(00.20.19) Ecofeminism has also emerged from binarity and opened up to a third, more "anarchic" path?
(00.25.41) The problem with the analogy between Woman and Earth is that it only concerns cisgender women. 
(00.27.43) The conception of nature and the conception of society go hand in hand. 
(00.31.35) Jeanne Burgart Goutal reads a passage from Joanna Macy's article, Dealing with environmental despair, published in 1995.
(00.32.47) Deep ecology and Shallow ecology, concepts and differences.
(00.37.58) Breaking the link with nature leads to climate anxiety.
(00.39.29) Jeanne Burgart Goutal explains her choice to write her book in the first person.
(00.41.30) The Lunar Alphabet Book of Wendy Delorme.
(00.44.22) In recent years the practices linked to well-being (yoga, lithotherapy…) have been swallowed up by neo-liberalism, what are the consequences?
(00.45.22) Our guest talks about her experience in India within the community of Vandana Shiva.
(00.50.18) A full Moon, a Vegetable, new musical interlude, by Paola Hivelin and Sophie Rokh.
(00.51.34) Ecofeminism is also the introduction to the sacred while retaining practical concepts and theories.
(00.54.44) How has art played an important role in ecofeminist mobilization?
(01.00.10) Is the ecofeminist movement at the origin of converging struggles?
(01.03.28) The toolbox: what means of ecofeminist action can be put in place on a daily basis?
(01.12.30) Mitteaux's Rant.
(01.18.45) Jeanne Burgart Goutal tells us about her inner witch.(01.20.30) Our guest looks back at the impact that these eight years of research have had on his life today.
References cited
in the episode #7
Être écoféministe – Théorie et pratique: Jeanne Burgart Goutal, L'échappée, 2020.
Françoise d'Eaubonne: French woman of letters, novelist, philosopher, essayist, biographer and libertarian feminist and eco-feminist activist.
Le Féminisme ou la mort: Françoise d'Eaubonne, Edition Pierre Horay, 1974.
MLF: The Women's Liberation Movement (WLM) is an autonomous and non-mixed feminist movement created in 1970 that demands the free disposal of women's bodies and challenges patriarchal society.
FHAR: The Homosexual Front for Revolutionary Action is an autonomous Parisian movement, founded in 1971 as a result of a rapprochement between lesbian feminists and gay activists.
Louise Michel: Teacher, anarchist and feminist activist, major figure of the Paris Commune.
Isabelle Cambourakis: French publisher, known for having created the feminist collection "Sorcières", of which she is the editorial director, within the Cambourakis publishing house.
Philippe Descola: French anthropologist.
Val Plumhood: Australian philosopher and eco-feminist activist who has done work on anthropocentrism.
John Locke: A seventeenth-century English philosopher.
The Treatise on Civil Government: John Locke, Edition Simone Goyard-Fabre, 1984.
Adam Smith: Scottish philosopher and economist of the Enlightenment of the eighteenth century.
Karl Marx: Nineteenth century German philosopher, historian, sociologist, economist, journalist, revolutionary theorist, socialist and communist.
Friedrich Engels: Nineteenth-century German socialist and communist philosopher and theorist.
Simone de Beauvoir: French philosopher, novelist, memorialist and essayist.
Claude et Lydia Bourguignon: Alerters and soil microbiologists.
Solution locales pour désordres global: Documentary by Coline Serreau, Éditions Montparnasse, 2010.
Joanna Macy: American environmental activist, author, specialist in Buddhism, deep ecology and ecopsychology.
Dealing with environmental despair: Joanna Macy's 1995 article in Reclaim. Recueil de textes écoféministes de Emilie Hache, Éditions Cambourakis, 2017.
Deep ecology: Deep or radical ecology, is a contemporary ecological philosophy characterized by the defence of the intrinsic value of living beings and nature, i.e. a value independent of their usefulness to human beings.
Vandana Shiva: Indian environmentalist, writer and feminist and eco-feminist activist.
Navdanya: Navdanya is an Indian anti-globalization NGO, founded in 1991 in India by Vandana Shiva, dedicated to the protection of biodiversity and the development of organic agriculture.
Maria Mies: Professor of sociology, writer and German feminist. She created the Women and Development Programme at the Institute of Social Studies in La Haye.
Arturo Escobar: American-Colombian anthropologist.
Tribal-fusion: Tribal fusion is a modern type of oriental dance born in the United States.
Citation de Greta Thunberg (00.59.55): The World Economic Forum Annual Meeting in Davos, January 2020.
Peter Sloterdijk: German philosopher and essayist.
Zucchini pancakes – grain-free, vegan
* 2 zucchini, small to medium

* 1/2 teaspoon baking soda

* 2 cups of chickpea flour

* 1/2 teaspoon of salt

* 1/2 tablespoons of olive oil

* 3 tablespoons of water
Guest: Jeanne Burgart Goutal
Animation: Valérie Mitteaux and Wendy Delorme
Production: Gang Of Witches
Conception: Wendy Delorme, Valérie Mitteaux, Paola Hivelin, Sophie Rokh
Editing: Valérie Mitteaux
Sound illustration: Gang Of Witches
Musics: Nina Simone – Nina Simone Sings the Blues "Backlash blues" 1967 / Yma Sumac – "Ataypura" 1950 /  Dora Lou – Répertoire demi mondain – "Nous sommes des animaux" 1991 / ESG – "Dance" 1983 / Eitetsu-hayashi-utage-taiko – Tambours japonais 2017 / Gang Of Witches – "Gaïa rising" 2020 (unpublished)/ Dru-dru-mwa-tuna-ge-pwara-xoro-chant-de-liledes-pins (kanak song) – 2010 / Branko & Mayra Andrade – "Reserva Pra Dois" 2016 / Gang Of Witches – "Courgette" collection Une pleine lune, un légume 2020 / Casey Feat. La Relève Agressive – 2ème classe –  "On veut du changement" 2011
Mix: Thibault Delage, Adrien Becarria, L'Arrière Boutique
Branding: Vivien Bertin
"The artistic collective Gang Of Witches launches on January 10th a podcast that resembles it. Understand: eco-feminist, intensely sororalistic and revolutionary. One of its presenters tells us a few words about it. To your helmets."
Extract from the article from Clément Arbrun for TERRAFEMINA
8th of january 2020
Download the press review – FR [pdf – 3Mo]