#6 SEXOLOGY
Ovidie
Ovidie is the guest of Valérie Mitteaux and Wendy Delorme for this sixth episode of the Gang Of Witches podcast, recorded well before the confinement.
Ovidie is a film director. A former porn movie actress, she directed feminist pornographic films and then directed an educational video program on sexuality for adults. Since the early 2010's, she has directed various documentaries on sex work and sex workers and on sexuality in general, especially female sexuality. In her latest film, Tu enfanteras dans la douleur, released in 2019, she denounces obstetric violence and gives a voice to victims and health professionals. This exchange with Ovidie opens the reflection on our own relationship to the body, sexuality, the couple and the heterosexual society that we are suffering.
Suscribe to this podcast: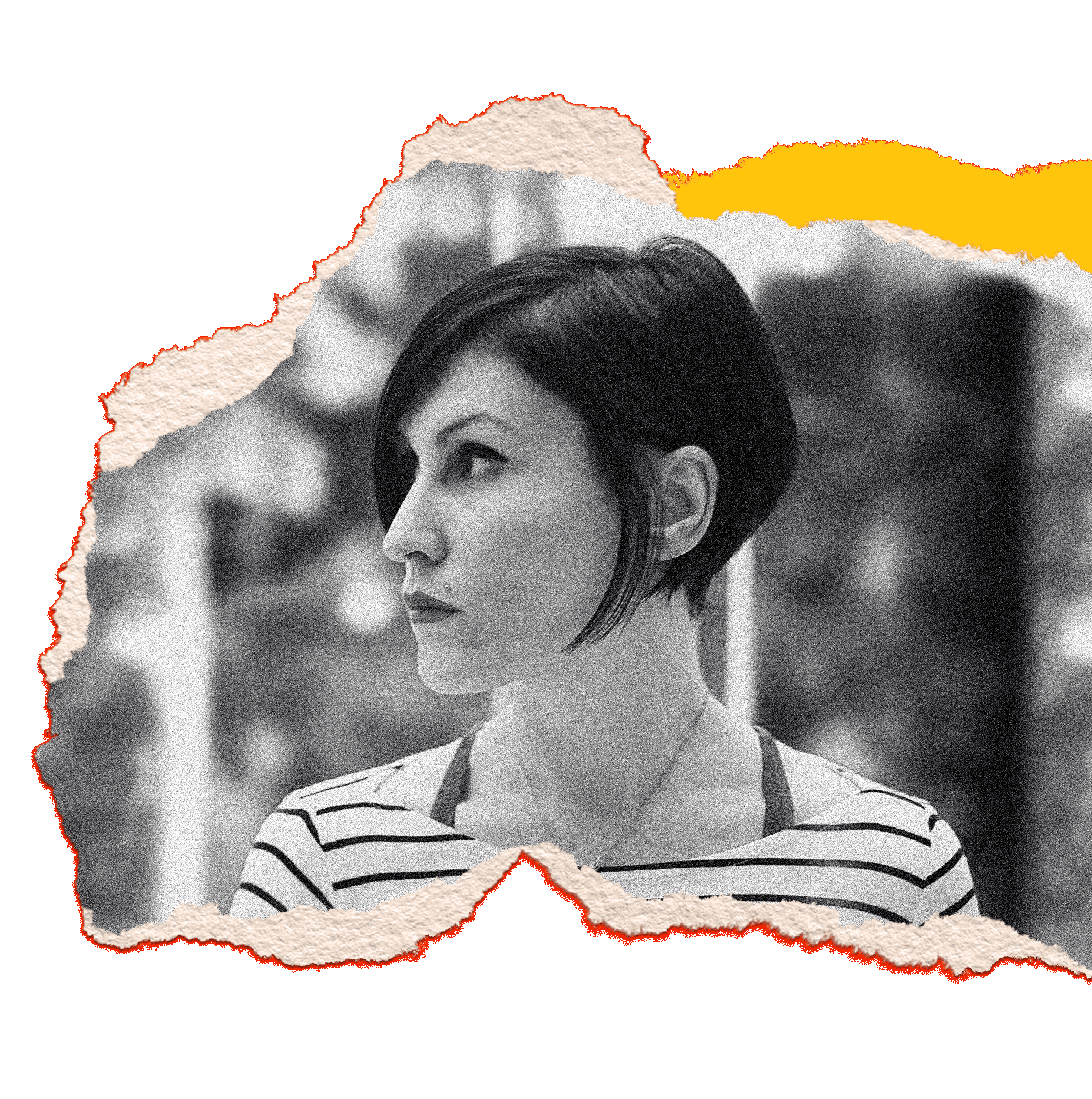 (00.01.18) Ovidie introduces herself, tells us about the choice of her pseudonym and the story behind this name. She also goes back over her career.
(00.05.43) She talks about her beginnings as a director, and what made her want to make pornographic films. Our guest also tells us about the stigmatization of sex workers and the difficulty they have to get dressed.
(00.09.14) The director looks back at the tragic destinies of the author Nelly Arcan and the actress Karen Bach, as well as her militant struggle, notably through her book Porno Manifesto, to have the activities of sex workers recognized as work in their own right.
(00.15.18) Ad Vitam Æternam, the serialized novel of Sophie Rokh.
(00.17.43) Ovidie tells us about the importance of the video medium to give women a voice and the need to make feminist porn.
(00.23.17) Ovidie directed a program of educational videos on sexuality. She explains what inspired her and why she wanted to stop.
(00.29.05) Has the proliferation of injunctions made sexuality less emancipatory?
Do fashions and norms influence the sexuality of women and men and with what consequences?
(00.45.08) The Lunar Alphabet Book of Wendy Delorme.
(00.49.03) Are sex workers the witches of modern times?
(00.51.55) The toolbox: what advice to give to a young woman who is beginning to learn about sexuality.
(00.56.20) Ovidie has chosen to leave Paris to go and live in the South West of France. She goes back over the reasons for this choice.
(01.01.43) Ovidie tells us about her inner witch.
(01.06.02) Some advice to improve your sex life.
(01.13.04) Mitteaux's Rant.
(01.19.19) Is it necessary to be in a couple to blossom?
(01.23.07) Ovidie talks about her film Tu enfanteras dans la douleur and the omnipresence of patriarchal culture in the practice of modern medicine. 
(01.28.18) Ovidie's documentary Là où les putains n'existent pas tells the story of Eva Marree Kullander Smith and the hypocrisy of Swedish society.
References cited
in the episode #6
Destin Farceur: Comic book series, Ptiluc, Vents d'Ouest, 1983-2010.
Rhabillage: Ovidie's report broadcasted in the program Envoyé Spécial on France 2 in 2011.
Nina Roberts: Ex-sex worker, French porn writer and actress.
Brigitte Lahaie: French actress and radio host, former sex worker.
Eliska Cross: French actress, ex-sex worker.
Carla Nova: French actress, ex-sex worker.
Nelly Arcan: Quebec author, former sex worker.
Putain: Nelly Arcan, Editions Seuil, 2001.
Karen Bach: French sex worker, author and porn actress.
Baise-moi: Erotic thriller by Virginie Despentes and Coralie Trinh Thi, 2000.
Porno Manifesto: Ovidie, Edition Flammarion, 2002.
Isabelle Alonzo: Feminist activist, novelist and columnist for french radio and television.
Les Chiennes de Garde: Association for the defence of women against sexist insults, particularly in the public space, the media and advertising.
Le STRASS: Syndicat du Travail Sexuel, created in March 2009.
Slut-shaming: The term slut-shaming denounces a society that considers sexually active women as "sluts".
Les prostituées de Lyon parlent: Film by Carole Rossopoulos, 1975.
Tu enfanteras dans la douleur: Documentary on obstetric violences by Ovidie, Arte, 2019.
Erika Lust: Swedish director, screenwriter, porn producer and writer. She is one of the pioneers of feminist pornography.
Fingered: Short film, Richard Kern, 1988.
Annie Sprinkle: American feminist artist, performer, director, publisher, cable TV host and writer who began her career as a stripper and pornographic actress.
Lydia Lunch: American singer, poet, writer, and actress.
Joseph Krammer: American sex education video author and founder of the Body Electric School.
Deborah Sundahl: American journalist and filmmaker specializing in sexuality and female pornography, also known as Fanny Fatal.
Squirter: To practice female ejaculation.
L'éducation sexuelle des enfants d'Internet: Ovidie's audio documentary series, directed by Nathalie Battus, France Culture, 2019.
Juste avant: Podcast audio documentary series Intimacy & Politics, Listening News, 2019.
Angélique, marquise des anges: Film the Bernard Borderie, 1964.
A quoi rêvent les jeunes filles: Documentary film from Ovidie, 2014.
Sex Education: Comedy-drama series created by Laurie Nunn, Netflix, 2019.
Aya Nakamura: French singer-songwriter of urban pop and R&B.
Croire aux fauves: Nastassja Martin, Edition Gallimard, 2019.
Rebelle: Animated film by Mark Andrews, Brenda Chapman and Steven Purcell, Walt Disney 2012.
Le Petit Guide de la sexualité épanouie: Cathy Wiks and Anne Semans, Tabou, 2009.
Masturbate-a-thon 2008: Masturbation Marathon, Copenhagen, 2008.
Europe Magic Wand: Hitashi brand vibrator.
Ruwen Ogien: French libertarian philosopher.
Sortir de l'Hétérosexualité: Festival Des Sexes et des Femmes, Paris, 2019.
Clinique des Bluets: L'Hôpital Pierre Rouquès – Les bluets, also known as the Bluets Maternity Hospital.
Loi Neuwirth: The Neuwirth law is a French law adopted by the National Assembly and the Senate on 19 December 1967 which authorises the use of contraceptives, in particular oral contraception.
Eva Marree Kullander Smith: Also known as Petite Jasmine, is a former Swedish prostitute who lost custody of her two children to her abusive ex-boyfriend when the authorities learned of her work.
Là où les putains n'existent pas: Documentary film of Ovidie, Arte, 2019.
Projet Jasmine: Médecins du Monde's programme to combat violence against sex workers.
Guest: Ovidie
Animation: Valérie Mitteaux and Wendy Delorme
Production: Gang Of Witches
Conception: Wendy Delorme, Valérie Mitteaux, Paola Hivelin, Sophie Rokh
Editing: Valérie Mitteaux
Sound illustration: Gang Of Witches
Musics: Louise Bertin and Victor Hugo – Opera "La Esmeralda" 1836 / Chaka Kan – EP Like sugar 2018 / Arnold Schönberg – "Le Pierrot Lunaire" 1912 / Moonchild – "Voyager" 2017 / Télépopmusic – "Breathe" 2008 & "L'incertitude d'Heisenberg" 2012 / Debussy – "Golliwogg's Cake Walk" 1913 / Xanae Bove and Nicolas Duée – "The Late Bloomers" & "Privacy police (under control)" 2020
Mix: Thibault Delage, Adrien Becarria, L'Arrière Boutique
Photography: Christophe Crénel
Branding: Vivien Bertin
"The artistic collective Gang Of Witches launches on January 10th a podcast that resembles it. Understand: eco-feminist, intensely sororalistic and revolutionary. One of its presenters tells us a few words about it. To your helmets."
Extract from the article from Clément Arbrun for TERRAFEMINA
8th of january 2020
Download the press review – FR [pdf – 3Mo]