#13 THE REPRESENTATION OF TRANSIDENTITIES ON THE SCREEN Episode #13
Episode #13
December 2020
#13 THE REPRESENTATION OF TRANSIDENTITIES ON THE SCREEN
Gabe Harrivelle
For this thirteenth episode, Gang Of Witches renews its carte blanche to Lexie from the Instagram @aggressively_trans account. For the last full moon of the year, Lexie welcomes Gabe Harrivelle, activist and consultant in trans and non-binary representation in movies and television. Gabe created with Charlie Fabre and Chloe Hatimi the Representrans.fr website. Through their actions, they have the ambition to change the representations of transidentities in France. During this exchange, Lexie and Gabe talk about the cisgaze, and the ways in which trans people could reappropriate their media representation.
Suscribe to this podcast: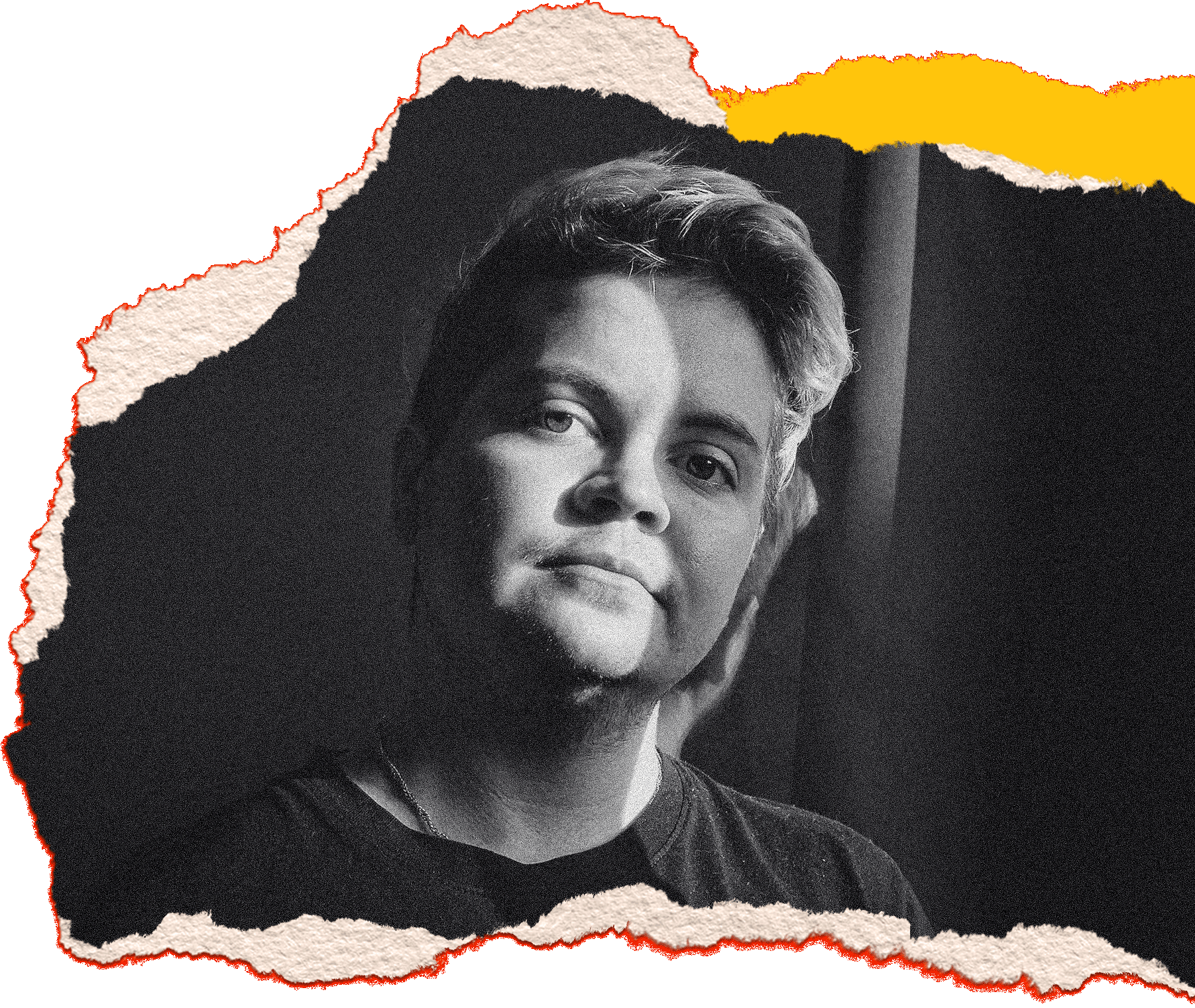 01:23 – Gabe, our guest, introduces himself and tells us about his relationship to non-binarity.
04:21 – What is enbyphobia? What are its consequences for non-binary people?
7:50 – Gabe talks about his project Représentrans, for the representation of trans and non-binary people on the screen.
11:30 – Sabrine Kasbaoui's Book of Rebellions.
18:09 – Gabe launched the Actoratrans investigation following the publication of the film A Good man, the first action of Représentrans.
24:02 – What is the state of play of trans representations on the screen today?
27:32 – "Lexie's Column".
30:26 – "The representation of trans people in cinema and television has always been hypersexualized, and shown only through the prism of cisgender vision.
34:37 – "A Full Moon, a Vegetable", musical interlude by Paola Hivelin and Sophie Rokh.
36:15 – How does this cisgenre vision translate and how to break it?
41:46 – Lexie and Gabe give us their recommendations for films, series and documentaries on the representation of trans people.
References cited
in the episode #13
Lexie Agresti: French transgender activist for the right and visibility of trans people.
Représentrans: Association created to change the way transidentity is viewed on screen in France.
Non-binary: Whose gender identity is not part of the binary norm.
Enbyphobia: Refers to the rejection and all forms of discrimination to which non-binary people are subjected.
GLAAD: American non-governmental media watchdog organization founded to protest the defamatory coverage of LGBT+ people.
AJL: The Association of LGBT+ Journalists is an LGBT+ association founded in France in 2013.
Out d'or: Annual ceremony organized in France by the Association of LGBT+ Journalists since 2017. This event rewards media initiatives allowing the visibility of LGBT+ issues.
The Expertes: Les Expertes is a French organization created in 2015 which aims to improve the visibility of women in the public space and in the media.
Collectif 50/50: The 50/50 collective is a French association whose goal is to promote gender equality and gender diversity in the film and audiovisual industries.
Disclosure: Documentary by Sam Feder, 2020.
A good man: Film by Marie-Castille Mention-Schaar, 2020.
Girl: Film by Lukas Dhont, 2018.
Petite Fille: Documentary by Sébastien Lifshitz, 2020.
Fruity banana carrot cake
Ingredients
* 2 « flax eggs » ( 2 tablespoons of flax/linseeds + 2 tablespoons of boiled water)
* 100g sultanas
* 60g dried apricots
* 1 chai teabag
* 1 teaspoon ground cinnamon
* 1 teaspoon ground ginger
* 1 teaspoon mixed spice
* ¼ fresh nutmeg finely grated
* 50ml olive oil
* 50ml coconut oil
* 100 soft brown unrefined sugar
* Zest of ½ large orange
* 100g buckwheat flour
* 1 teaspoon baking powder
* 125g carrots grated (2 small)
* 2 ripe bananas (one mashed and the other one sliced into 3 lengthways strips)
* 70g walnuts or pecans, roughly chopped
Preparation
* Heat oven to 180°. Lightly oil one 20cm cake tin (or use baking parchment).
* Put the sultanas and apricots into a bowl and cover with one small cup of boiled water and add a teabag. Leave to soak for an hour or overnight.
* Next, make your « flax egg » by adding 2 tablespoons of boiled water to 2 tablespoons of flax seeds into a cup and leave soften for around 20 mins (or longer) until they go gluey and egg like.
* Meanwhile, whisk the oils, sugar and orange zest in a bowl until to sugar looks dissolved and the mix looks slightly creamy. Now stir the flour, baking powder, cinnamon, spice and nutmeg with a little pinch of salt into the mixing bowl.
* Drain the tea from the sultanas and squeeze through your fingers until most of the liquid has gone, then add to the cake mixture.
* Fold in the grated carrots, one mashed banana and the nuts – mix gently to combine, and then pour into the cake tin.
* Arrange 3 banana slices on the top of the cake in rows.
* Bake for 40 mins or until a skewer inserted into the centre of the cake comes out clean. Check the cake 1/3 of the way through the cooking time and if the banana looks like it is browning too much then place a piece of foil loosely over the cake and continue to bake. Remove from the oven and leave to cool in the tin.
* This cake tastes even better the next day and keeps well for up to 4 days in a cake tin (it freezes beautifully too).
Guest: Gabe Harrivelle
Animation: Lexie @aggressively_trans
Production: Gang Of Witches
Conception: Gang Of Witches, Lexie
Editing: L'Arrière Boutique
Sound design: Gang Of Witches
Musics: Gang Of Witches
Mix: Thibault Delage, Adrien Beccaria, L'Arrière Boutique
Photography: Gabe Harrivelle
Branding: Vivien Bertin
"The artistic collective Gang Of Witches launches on January 10th a podcast that resembles it. Understand: eco-feminist, intensely sororalistic and revolutionary. One of its presenters tells us a few words about it. To your helmets."
Extract from the article from Clément Arbrun for TERRAFEMINA
8th of january 2020
Download the press review – FR [pdf – 3Mo]