#1 LOVE
& SORORITY Episode #1
#1 LOVE
& SORORITY
Paola Hivelin and Sophie Rokh
First full moon of the year 2020, first episode of the Gang Of Witches podcast. Paola Hivelin and Sophie Rokh, artists and co-founders of the gang, are the guests of this episode #1.
Gang Of Witches is for Paola Hivelin and Sophie Rokh the answer to a quest they started alone: to find their place, untangle the existential knots, put them back in a societal context, understand the world and finally act and search for their eco-feminist sisters.
Three years after the birth of the gang, they come back to the essence of the project, tell us about their creation, their friendship, their revolts. They tell of the expansion of their constellation of witches. Love and sisterhood are indeed the fuel of the revolution.
Suscribe to this podcast: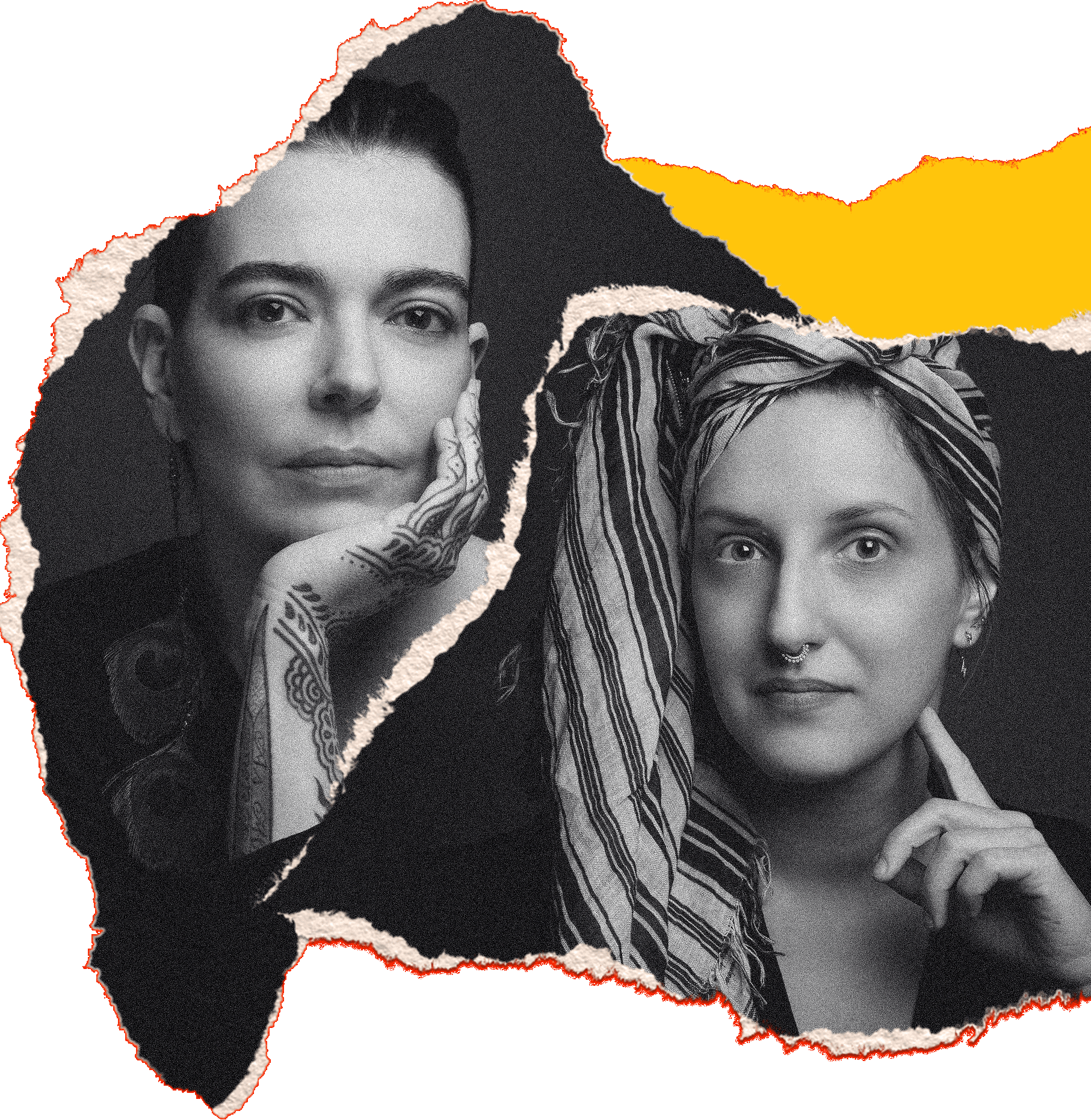 (01:23) Presentation of the Coven, art center of Gang Of Witches. (02:01) Description of the different projects that the Coven will house.
(03:20) Paola Hivelin talks about the circumstances that led her to start sculpting and painting.
(05:50) Sophie Rokh tells us how the music band Gang Of Witches was formed.
(07:45) Sophie Rokh took a long time before she considered herself an artist in her own right, she retraces her journey.
(09:41) Le Coup de gueule de Mitteaux
(15:37) L'Abécédaire lunaire de Wendy Delorme
(18:20) Paola Hivelin and Sophie Rokh tell us about the meaning of sorority and the role it played in their journey.
(21:54) Who is your inner witch, and can we associate "witch" and "revolutionary"? Guests and hosts answer this question.
(25:25) Paola Hivelin presents The Moon, a work from her Tarot series. (28:49) Sophie Rokh talks about her serial novel Ad Vitam Æternam and reads an excerpt.
(32:50) What are the ambitions of Gang Of Witches? (34:32) The founders give their opinion on the system of recognition of artists, with Gang Of Witches they bypass this system by creating their own.
(36:43) The Anti-Sex Toolbox
(38:55) The meeting of Paola Hivelin and Sophie Rokh.
(39:23) The witch, a persecuted figure.
References cited
in the episode #1
www.paolahivelin.com: Find the work The Moon by Paola Hivelin in the Tarot series.
Plaintes contre X: So. Noël, 2009, Nos Éditions folles.
Ad Vitam Æternam: Sophie Rokh,
Pilot p.21, Episode 1 p.48, Episodes 2 and 3 p.24
Mes biens chères soeurs: Chloé Delaume, 2019, Editions Seuil.
In this short, incisive text that advocates sorority as a tool of viral power, Chloé Delaume addresses the question of the renewal of feminism, the ongoing extinction of patriarchy, and what is happening, and can happen, since the #metoo movement.
Guests: Paola Hivelin and Sophie Rokh
Animation: Valérie Mitteaux & Wendy Delorme
Production: Gang Of Witches
Conception: Wendy Delorme, Valérie Mitteaux, Paola Hivelin, Sophie Rokh
Editing: Valérie Mitteaux
Sound illustration: Gang Of Witches
Sound engineer: Loïc Le Roux
Branding and photography: Vivien Bertin

Retranscription
from episode #1
"The artistic collective Gang Of Witches launches on January 10th a podcast that resembles it. Understand: eco-feminist, intensely sororalistic and revolutionary. One of its presenters tells us a few words about it. To your helmets."
Extract from the article from Clément Arbrun for TERRAFEMINA
8th of january 2020
Download the press review – FR [pdf – 3Mo]